Suite à mes inquiétudes concernant les informations que mon navigateur laisse en pâture à Google, je viens de m'apercevoir que l'extension CustomizeGoogle a déjà tout prévu, comme le montre cette copie d'écran de la section Privacy de sa configuration :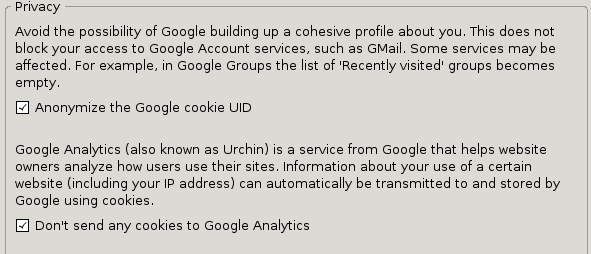 Il existe bien d'autres réglages que ceux présentés ci-dessus. Hop, extension adoptée. Espérons qu'elle ne contient pas d'autres types de mouchards…
No tips yet.
Be the first to tip!
Like this post? Tip me with bitcoin!
1FyBeqkzeZoYBfbLjRbFSVNiPJLZ7nHa6a
If you enjoyed reading this post, please consider tipping me using Bitcoin. Each post gets its own unique Bitcoin address so by tipping you're also telling me what you liked, in addition to contributing to the blog hardware and electricity, and perhaps a few beers if you don't mind 🙂