La bonne nouvelle de ce jour : presque 3 mois après les tests d'installation, mon immeuble est enfin disponible à l'abonnement sur sfr.fr.
Il reste donc à demander et obtenir un rendez-vous.
Presque 6 ans pour en arriver là… cette fois touche-t-on au but ?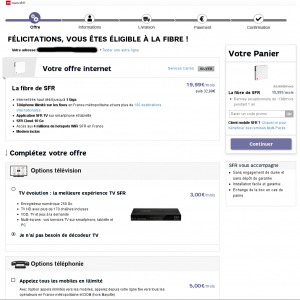 No tips yet.
Be the first to tip!
Like this post? Tip me with bitcoin!
1PBDH2zAozqSWr4Ha4XVfErYYCMZu5GMQy
If you enjoyed reading this post, please consider tipping me using Bitcoin. Each post gets its own unique Bitcoin address so by tipping you're also telling me what you liked, in addition to contributing to the blog hardware and electricity, and perhaps a few beers if you don't mind 🙂