Monday, October 8th, 2012
(précision sur le titre : le "même à Paris" est une allusion à la densité de la ville, où donc la rentabilité par rapport à l'investissement, prétexte souvent soulevé par les opérateurs, est le moins susceptible de poser un problème)
À l'heure où beaucoup monde se plaint de ne pouvoir obtenir la fibre (à part une poignée de privilégiés qui l'ont déjà, sans compter les très rares qui pourraient l'avoir mais n'en veulent pas), une étude OCDE signalée par Numerama confirme le colossal retard français en la matière.
Récemment, Orange a annoncé triomphalement activer 4000 prises par semaine.
La situation dans mon immeuble :
immeuble construit en 2008
convention Free signée début 2011
repérage puis pose par Free de la desserte horizontale (égouts -> immeuble) en octobre/novembre 2011
depuis… rien !
On appelle "desserte horizontale" le raccordement par la rue, les égouts, etc, d'un immeuble au réseau d'un opérateur.
La "desserte verticale" est le câblage interne de l'immeuble, reliant l'arrivée horizontale aux logements à desservir.
Lorsque les deux sont réunis, on parle d'accès FTTH (fiber to the home, fibre jusqu'à l'habitation).
Voici donc une photo, prise le 13 novembre 2011, de l'arrivée de la fibre Free dans le sous-sol de mon immeuble, via les égouts de Paris. La fibre est munie d'une jolie étiquette verte "FREE INFRASTRUCTURE" avec une référence et un numéro de téléphone qui tombe sur un répondeur, renvoyant l'appelant vers d'autres numéros "spéciaux syndics d'immeuble" qui ne permettent jamais d'obtenir quelqu'un. On voit que la fibre est sagement enroulée, inutile, en attente d'être branchée sur un réseau vertical qui n'est toujours pas là, près d'un an après.
Dans mon immeuble, les questions logiques des résidents : "On a bien voté la convention fibre pour Free en assemblée générale annuelle ? Ça en est où ? Faut-il qu'on demande à un autre opérateur ?"
Notre immeuble est très loin de représenter un cas isolé, j'ai entendu parler d'exemples similaires à Paris et à Lyon. Les opérateurs se sont fait la course pour mettre un pied le plus rapidement possible dans les immeubles, mais se font tirer l'oreille pour terminer les travaux, prétextant une faible demande des abonnés..
Parallèlement, pour masquer le retard français, les pouvoirs publics utilisent les statistiques faussement flatteuses de Numéricâble, un réseau câblé de télévision vieux, à quelques rénovations près, de 30 ans, en fibre (moderne à l'époque) prolongée dans les immeubles par du câble coaxial tout à fait classique et aux performances bien moindres que la fibre optique de bout-en-bout.
Quant aux opérateurs, par souci d'économie, ils misent sur la technologie VDSL2 pour donner une "2ème vie" [sic] au réseau cuivre du téléphone classique. On ignorait que celui-ci était mort une première fois.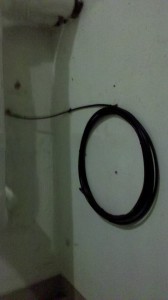 Mise à jour : je ne regrette pas d'avoir écrit et diffusé ceci sur twitter, j'ai pu avoir des retours sur la procédure à suivre pour avancer. Free semble avoir résilié la convention d'immeuble.
Il nous appartient donc de choisir un nouvel opérateur d'immeuble  lors de la prochaine assemblée générale ; cet opérateur pourra effectuer la pose du câblage vertical et utiliser la fibre posée par Free.
Mise à jour 2 : il s'avère que les deux seuls opérateurs installant du FTTH en France en tant qu'opérateur d'immeuble actuellement sont SFR et FT/Orange. Merci beaucoup aux personnes qui m'ont donné des contacts (SFR très réactif…).
L'ARC (association conseillant les syndics de copropriété) arrive aux mêmes constatations, mais conseille carrément de rester en ADSL, ce qui est absurde et désolant. L'ARC soulève des arguments spécieux à mon sens contre les conventions des opérateurs (en fait reprises d'un modèle ARCEP) : durée de 25 ans (compréhensible, cela limite les interventions perpétuelles en AG, mais elles peuvent être résiliées avec préavis de 18 mois) et non-propriété du câblage à l'issue de la convention (compréhensible également : je vois mal les copropriétés se charger de la maintenance/entretien/évolution technique ou avoir un prestataire supplémentaire à trouver pour cela).
Voir :
No tips yet.
Be the first to tip!
Like this post? Tip me with bitcoin!
1AEpLSSo9UHTmzzCdrxXCE5kcLVNstK4ra
If you enjoyed reading this post, please consider tipping me using Bitcoin. Each post gets its own unique Bitcoin address so by tipping you're not only making my continued efforts possible but telling me what you liked.